ZIYA, The Oberoi, Mumbai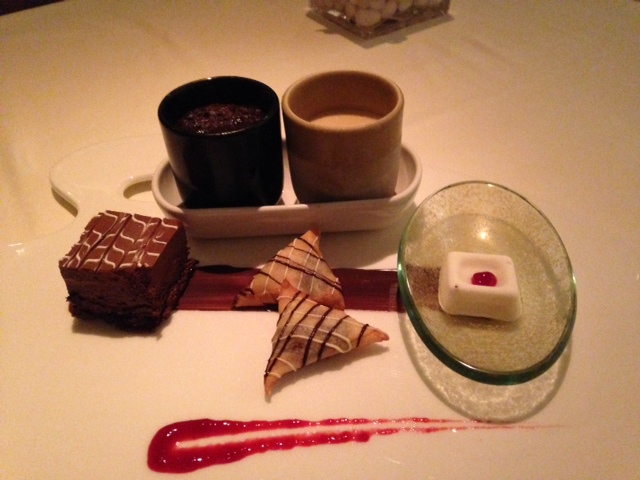 I am going to start posting on this new Food & Drink section on the blog with one of my favourite places in Mumbai, Ziya at The Oberoi. This restaurant is Michelin starred chef, Vineet Bhatia's contemporary take on bold Indian flavours.
The gold decor dictates a rich and memorable meal. While each dish has a clear description, the innovative plating and unique combination of flavours, make each plate a pleasant surprise. Think tikkas delicately placed one-top of another or tandoori lamb chops with lemongrass.
Some people may not be comfortable with the idea of pre-platted Indian food, but I highly recommend you give the individual dishes a try and enjoy the meal as it is meant to be.
My personal favourites at Ziya include; Dhaba Chicken, Tikke Pe Tikka, 3 Chaats, Almond Tikki, Murgh Makhanwalla, Black-olive Rosemary Naan, Masala Cheese Naan and the Chilli-Garlic Naan.
Also, make sure you leave room to enjoy the insanely yummy chocolate dessert platter that includes: a cumin chocolate brownie, white chocolate kulfi, chocolate samosa, chocolate mousse on a chikki base as well as a pan and chutney panna cotta.
Call in advance to make a reservation and request for a table by the window for a view of Mumbai's Marine Drive.